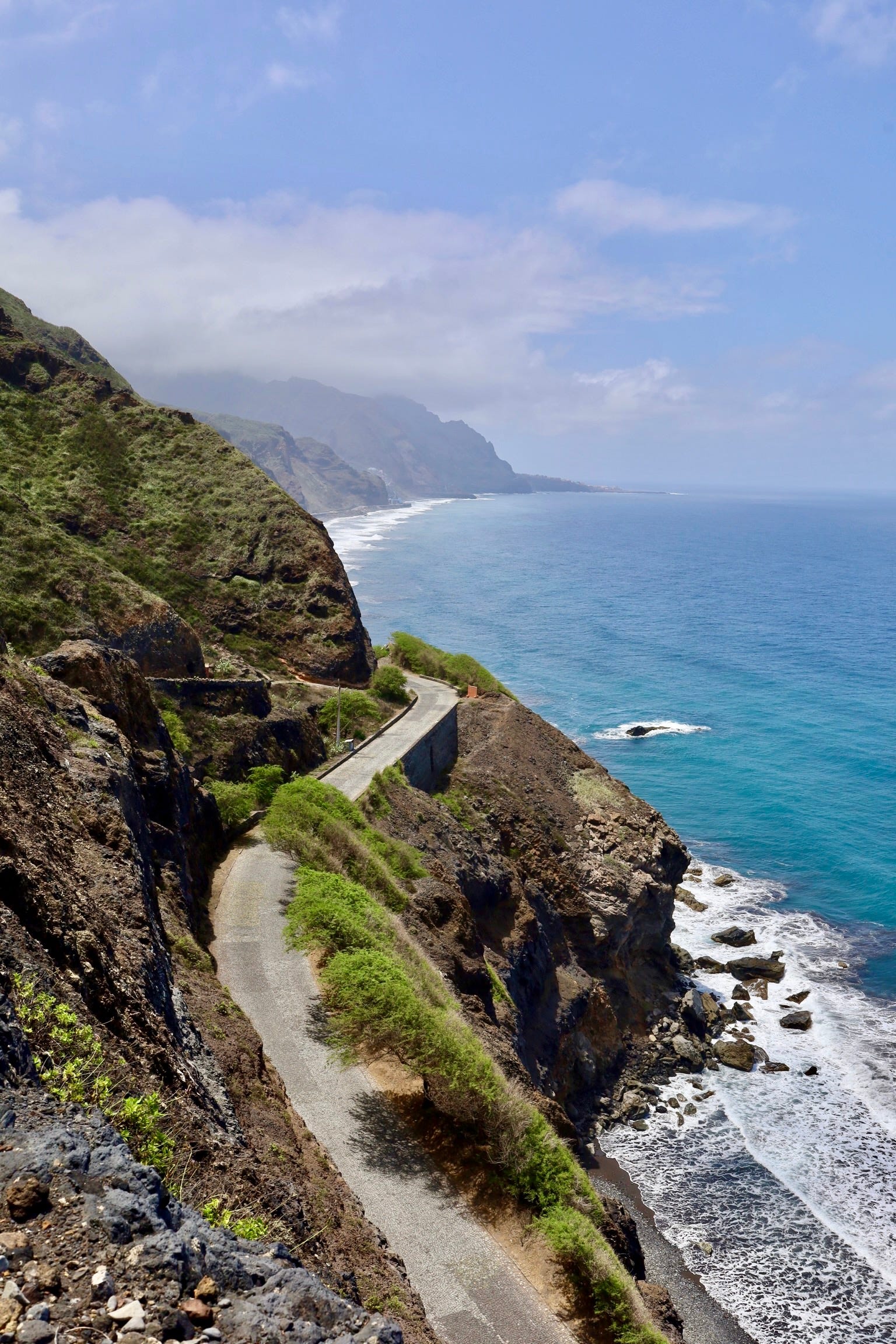 Santo Antão Tour - Your travel specialist for the Island Paradise Cape Verde
With around 330 days of sunshine, miles of bright sandy beaches and crystal-clear, pleasantly warm water, green valleys and steep mountains, Cape Verde is a small, slumbering paradise with African flair and a relaxed peace of life.


We are a local travel agency, specialised on hiking and discovery trips for groups and individual travelers on Santo Antão, São Vicente, São Nicolau, Santiago, Fogo & Maio.

On our tours you will get in touch with the real Cape Verde thanks to local guides. See, smell, taste, experience - Cape Verde islands are unique in their diversity.
Relaxed holidays already start with the travel planning. We advise you on your upcoming trip to Cape Verde and put together a tailor-made program for you. So the anticipation starts early, because your trip is in good hands.

Send us an E-Mail
[email protected]


Santo Antão Tour values
We create moments that are authentic.
Our tourism is sustainable; 100% of our income stays in the country.
We respect nature and its limits. We know that we are only guests on this planet.
We pay fair prices. Tourism that exploits people belongs to the past.
WE SPEAK ENGLISH +
WIR SPRECHEN DEUTSCH +
NÓS FALAMOS PORTUGUES +
NOUS PARLONS FRANÇAIS +
NO T'FALA CRIOLO
The island archipelago of volcanic origin consists of a total of 10 islands, 9 of which are inhabited. Each island is unique and various highlights invite you to discover them. Geographically, we distinguish between the Barlavento (upwind) and the Sotavento (downwind) islands.


The Barlavento Islands to the north include: Boa Vista, Sal, São Nicolau, São Vicente & Santo Antão

The Sotavento Islands in the south include: Maio, Santiago, Fogo, Brava & Ilhéu do Rombo (uninhabited)

The islands were settled by the Portuguese in 1456. Until the independency on July 5, 1975, Cape Verde was also plagued by Dutch, French and British privateers. Today there is a political climate in Cape Verde that is characterized by social peace and stability. However, the traces of the colonial era can still be felt today. Many old colonial houses adorn the big cities of Praia and Mindelo, but also small villages. The opinions of the Cape Verdeans differ about the political proximity and dependence on Portugal. While around half of the locals hope for more prosperity and opportunities through the relationship with Portugal, the other half would like more independence. After all, the dark past of Portugal's colonization and the slave trade that it brought with it cannot be easily forgotten.

The official language of Cape Verde is Portuguese, but Creole is spoken. As a traveller, you can get by with English or French almost everywhere, although in more rural regions you sometimes have to communicate with your hands and feet.

«We were a family of five and we had a holiday to remember forever. Planning was super easy with great suggestions and flexibility from the agency to meet our needs. Same for the super helpful and kind guides that always helped with the kids and were extremely knowledgeable. I can't recommend enough Santo Antão Tour!» Family Pais, Portugal
«Fredson, our guide, was not only super professional, knowledgeable and motivated to show us all of the island's beauty on our hikes & trips but also always genuine, funny, and relaxed (=best of both worlds). We could really tell that he loves his job and has been doing it for a long time!» Malia, Switzerland


«Que de beaux souvenirs avec toi... les amoreux d´authentic, n´hésitez pas et passez un moment avec Fredson, vous ne regrettez pas!» Stephanie, France

«On c'est régalé pendant notre séjour.
Super Programme, bon enchaînement des randos, bonne organisation des transferts etc.. Fredson au top, gentil ,compétant, attentif aux clients, de bonne explication, c'est un vrai plus pour un séjour découverte d'avoir un guide comme ça !» Pierre, Franc
«Merci beaucoup, vous etes très gentil, et surtout vous nous avais donner un peut d´histoire et beaucoup de souvenir à ramener en France!» Jessica, France
«From the first to the last day, this trip was filled with highlights, perfectly organized by Fredson and Melissa at all times. One of my most beautiful trips to Cape Verde!»tatjana, Switzerland
«If you want to have the best out of Santo Antao, they are the ones to contact. We had Cova - Paul hiking tour booked and when we finished, we had to book another tour next day because they were awesome. Friendly, helpful, funny and full of knowledge!» Zeljko, Croatia
«Interesting programme "off the beaten track"» Eva & jaromir, Czech Republic
«Fredson showed us his island with a lot of love and commitment. No wish was left unfulfilled.» My Way Crew, Germany

«My boyfriend and I did the Katxupa tour and we couldn't have asked for a better day! The day itself was beyond our expectations. Going to Fredsons family house and cooking the traditional dish of Cape Verde amongst his family was so unique and special, something we will never forget.» Abby, England
the benefits of exploring with local guides
All of our tours are always accompanied by local guides. There are several reasons for this. The local guides enable you to come into contact with the local population faster on the tours and thus experience unique moments. Our guides have had various training courses including safety, fauna and the history of Cape Verde. With our tours we enable sustainable tourism in Cape Verde, which is one of our most important company value. Also our guides ensure that all tours run smoothly, even if something unforeseen should occur.
Why book with Santo Antão Tour?
We are aware that there are many tour operators and travel agencies on the market. It's not easy to decide, who to trust with the planning of your vacation. But as a local agency and travel specialist with experience in the field of sustainable tourism, such as connections all over the islands, we are the specialist you're looking for. We are also very flexible and eager to fulfill your wishes and expectations and thereby create an unforgettable experience.

Santo Antão Tour will give you the opportunity to be surprised and discover places away from the familiar without having to miss the well-known spots.
With us you will get the best of both.


We do not measure our success with numbers but with the satisfaction of our customers, always in respect with nature and the local population.

Our mission is uncompromising:
Authentic. Sustainable. 100% fair.