Fogo is the 3th largest and at the same time the warmest island in the archipelago. It is almost circular, has a diameter of 25 km and is 476 square km in size. At 2829m, the Pico de Fogo is the highest point in the archipelago. The highest inhabited settlement on Cape Verde is located in the 1,600 m high crater landscape of the Chã das Caldeiras. The island manages to captivate every one of its visitors!
In November 2014 was the last eruption of «Pico Pequeno», a small side crater of the big volcano. The lava masses buried large areas of the Chã das Caldeiras and the two towns of Portela and Bangaeira. The volcano is omnipresent here and it is amazing, how people here have learned to live with the whims of nature.
The island offers spectacular tours for hikers and enjoyable moments for culinary fans. The fertile soil is used for the cultivation of wine, which is famous throughout Cape Verde, and for the cultivation of coffee.
Currently there are almost daily domestic flights with Best Fly Cabo Verde from Praia to Sao Filipe. The flight takes about 30 minutes. As an alternative, but less reliable, there is also a ferry that runs between Praia and Sao Filipe. From Sao Filipe we organize the transfers up into the crater or start directly with the island tour. Sao Filipe has a beautiful old town, but for nature lovers we recommend staying outside.
cook with locals
Join us for a unique experience on Fogo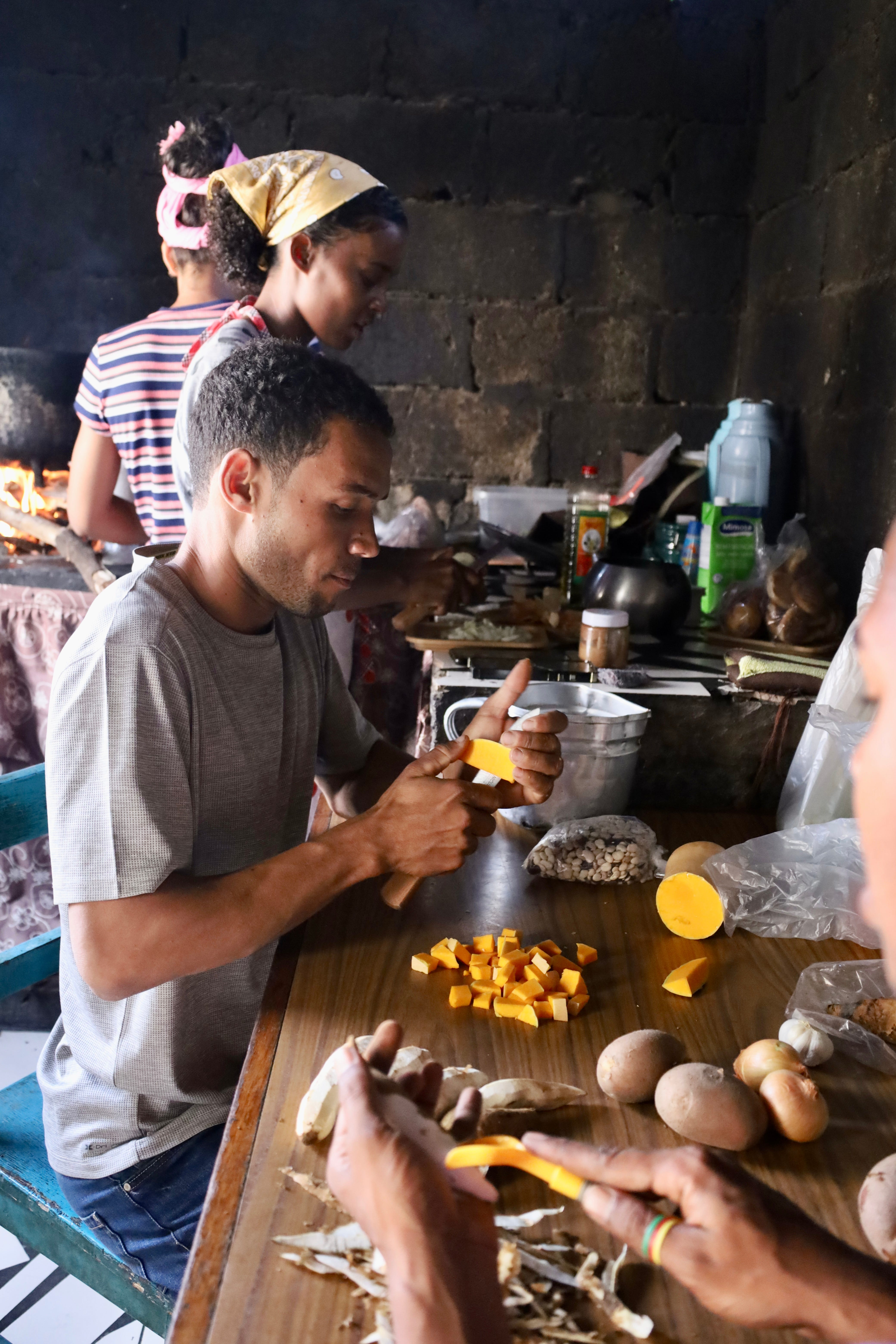 Casa Cicilio is a charming local Guesthouse located in Chã das Caldeiras. It's the perfect place to sleep, if you are planing to do some hiking excursions. The location overlooking the Pico Grande is truly breathtaking. All rooms are comfortably furnished and the hosts Cicilio and Helena will win you over with their warm hospitality!
If you are looking for peace and nature, this is the place for you. La Fora Ecolodge is about a 15 minute drive outside of Sao Filipe. The accommodation works in harmony with nature. All the electricity at La Fora is powered by the sun through their solar panel array and the dishes are prepared with vegetables from their pesticide-free garden.